Caravan Finance
Seacliff Holiday Park have teamed up with Pegasus Finance to enable us to offer finance on all caravan purchases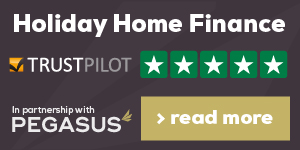 HOW DOES STATIC CARAVAN FINANCE WORK?
At Pegasus Finance, we work with a range of flexible lenders across the UK to help every applicant find the best deal available to them – with affordable monthly payments that can be tailored to suit your budget. Found a static caravan you love? Great – fill in our quick and easy online application form for a response within an hour.
Still deciding? No problem! We can still arrange static caravan finance before you decide on the ideal model for you – giving you the freedom to shop around without worrying about how you'll find the funds.
LOAN BENEFITS
Interest rates from 7.9% APR
Borrow £5,000 – £100,000
No deposit required
Complete agreement online
Payout within 24 hours
GUARANTEED STATIC CARAVAN FINANCE
Not sure whether you'll be accepted for static caravan finance? Guaranteed approval can be an understandably tempting prospect for bad credit holders – but unfortunately, offers that seem too good to be true generally are.
It is both unethical and illegal to claim to offer guaranteed static caravan finance – so steer well clear of companies making these empty promises. There are no guarantees in the world of credit, and lenders have a duty to check your credit background to ensure that you'll be able to afford the repayments – protecting your credit score in the long term.
While guaranteed loans are something of a widespread myth, it's still possible to get approved for a competitive finance deal even if you have a low credit rating. At Pegasus Caravan Finance, it's our policy to protect our customers' financial stability – so we won't approve an application if we're not confident that you can pay it back.
Although we can't guarantee static caravan finance for every applicant, we'll make it our priority to help you find an affordable loan that suits your circumstances.
STATIC CARAVAN FINANCE FOR BAD CREDIT
For poor credit holders, it can seem like your credit history will always haunt you – but we know different. A less-than-perfect credit score may leave you concerned that you'll be refused static caravan finance in future – but in actual fact, a history of missed payments doesn't have to hold you back.
Reputable lenders and brokers have a duty of care to applicants, meaning that credit ratings and financial background checks will be carried out as standard – but this is designed solely to confirm that you'll be able to afford the repayments. Borrowing more than you can afford could leave you drowning in unmanageable debt, which is highly likely to further impact your poor credit score.
If you're on the hunt for static caravan finance, bad credit shouldn't have to get in the way of finding a good deal. Taking out a loan is actually a great way to start rebuilding your credit rating, and it couldn't be easier thanks to our manageable monthly payments.
Interest rates will naturally be higher for people with poor credit scores, but there are still deals available to applicants who've experienced financial difficulties in the past (as long as they can afford their monthly instalments).
At Pegasus Finance, we know that no two customers' circumstances are the same – which is why we pride ourselves on offering flexible static caravan finance deals that give every applicant a chance at owning the caravan they want.
Share this page